Hi bros, I would like to show you my personal Super Smash Bros Next roster. In case you didn't know, Super Smash Bros is basically a fighting game with nintendo characters. For those who do know about it, you may or may not know that they are making a fourth one for the wii u and the 3ds. Namco Bandai is teaming up with the creator of the series, but they hadn't started developing yet. The creator predicts that it will be released holidy 2014, or if developing flows well, we might just get it holiday 2013. Let's not get our hopes up. Anyway, I have created my own Super Smash Bros Next character roster that lists who I would like to have in the game. These are my personal choices, so don't hate. Also, fill in the question marks and tell me who you want in the game in the comments below. Have fun bros!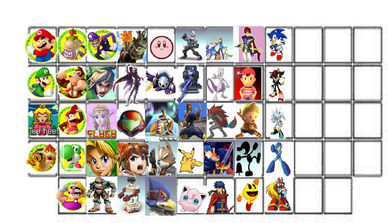 Ad blocker interference detected!
Wikia is a free-to-use site that makes money from advertising. We have a modified experience for viewers using ad blockers

Wikia is not accessible if you've made further modifications. Remove the custom ad blocker rule(s) and the page will load as expected.