Hey bros. This is Sgt Frog chat #2: prank calls. This is original content. Have fun bros!
(Tamama and Keroro roll on the floor laughing hysterically.)
Keroro: Okay, okay my turn, what's the number?
Tamama: Yes sir, it's 679-354-4677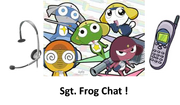 Keroro: Okay it's ringing. Boy, do I have a good one!
Dominos lady: Hi this is Dominos how can I help you?
Keroro: Why did the chicken cross the road?
*lady hangs up*
Tamama: Sorry sir, but that wasn't exactly a prank. THIS is a prank.
*ring ring ring*
Gamestop guy: Hi this is Gamestop where you can preorder halo 4 and get the bonus forest armor skin this is Steve how can I help you?
Tamama: Is your refrigerator running?
Gamestop guy: Um, this is gamestop.
Keroro: THEY'RE ONTO US!!!
(Keroro grabs phone from Tamama and hangs up.)
(Giroro enters the room)
Giroro: What the frog are you two doing?
Tamama: We're doing prank calls in order to take over pekupon.
Giroro: Hmm, that's not a bad idea, give me the phone. Hmm, oh I know a number.
(Dials random numbers)
*ring ring ring*
Elizabeth Mays: Mays residents, Elizabeth speaking.
Giroror: Uh yeah, how many Pekuponians does it take to do laundry?
Elizabeth Mays: Bill! It's for you! This guy is asking about laundry!!!
*Hands the phone over*
Billy Mays: HI BILLY MAYS HERE. WHY ARE YOU CALLING ME. I'M REALLY HUNGRY AND I HAVE FRIENDS HERE. DO YOU WANT AN BACON EGG AND CHEESE BISCUIT FROM THE STAIN SPECIALIST OR DO YOU WANT TO KNOW HOW OXICLEAN WORKS?
Giroro: The man is trying to hypnotize us to buy his product with his extremely loud voice. TAKE COVER!!!
(Giroro shoots the phone with his gun, punches it seven times, and explodes it with a bomb...three times.)
Keroro: Now we don't have a phone to prank call...wait, what about Natsumi's phone?
The End
R.I.P. Billy Mays