Sgt. Dark Frog is my new series that is fully original. I will have fan made people in this but they will look like the pekoponian people in Sgt. Frog. The word dark is in it becasue Dark Keroro is main character. I have make up names for the ailens that look like Fuyuki and Natsumi. Also if you don't know the alines that look like Fuyuki and Natsumi look at the end of Keroro Movie 3 ending. I hope you will like it.
P.S. I know Miruru got out of the Platoon but she will be back.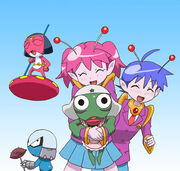 Characters
Dark Keroro
Shivava
Doruru
Miruru/Nazca
Fuyuik (The ailen that look like Fuyuki)
Natsuk (The ailen that look like Natsumi)
Momikn (Fan made ailen character that look like Momoka but with yellow hair)
That's for now! When I'm done with the 1st script make sure to read it!
Thank you and plz give me a comment!
Thank you!
Ad blocker interference detected!
Wikia is a free-to-use site that makes money from advertising. We have a modified experience for viewers using ad blockers

Wikia is not accessible if you've made further modifications. Remove the custom ad blocker rule(s) and the page will load as expected.