You know the book call where's Waldo? Well you have to find a guy name Waldo and more stuff the book tell you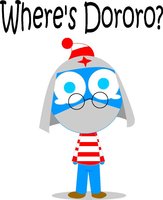 have to find. Well it's a finding book. Well any way it's kind of like Dororo. Well you know how the Keroro Platoon forget Dororo...that why this is funny. Also Dororo looks good in glasses.
Ad blocker interference detected!
Wikia is a free-to-use site that makes money from advertising. We have a modified experience for viewers using ad blockers

Wikia is not accessible if you've made further modifications. Remove the custom ad blocker rule(s) and the page will load as expected.